Bizarre: check Ex-PSL stars who were destroyed by alcohol
Alcohol is one of the beverages that can be very toxic to your health when consumed irresponsibly, and in South Africa, the culture of alcohol abuse is astronomically high with accompanying violence which has caused so many deaths and heartbreak in different households.
For a period of time, South African sportsmen are engrossed in the abuse especially those who have had a tremendous run in their career as a number of stories of former Premier Soccer League (PSL) players whose careers were absolutely destroyed by alcohol abuse.
This has contributed to a great extent the downfall of most of the PSL players has been alcohol, as it has ruined so many promising careers.
In the tweet is,
Junior "Kleinman" Khanye former Kaizer Chiefs wingers./
Thabiso "Skapie" Malatsi, former Mamelodi Sundowns
star Lerato "all you need is love" Chabangu and
Former Orlando Pirates defender Mbulelo "Old John" Mabizela.
The aforementioned players' history with alcohol has been talked about exhaustively.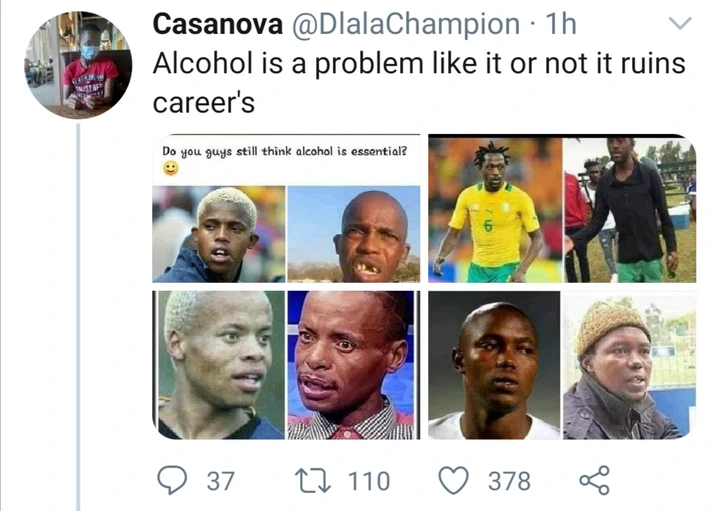 A debate ensued, but people were glaringly divided on the issue, with one section saying Alcohol is not actually a bad thing, these players are just not disciplined enough. Another group argued that all problems footballers face stem from alcohol abuse.
It must be remembered that South Africa is one country with a huge alcohol consumption, perhaps it is a societal problem.
Kaizer Chiefs want to FIRE Gavin Hunt
Gavin Hunt could be heading for the exit door at Kaizer Chiefs come the end of the season and a familiar face has been tipped to replace him.
Kaizer Chiefs are currently in 10th place on the DStv Premiership log standings with just four games to go and the club are reportedly looking at getting rid of Gavin Hunt!
Hunt joined the Amakhosi with much expectancy at the beginning of the season in a blockbuster move however the Four-time league winning coach has found the going tough at Naturena.
Many expected the former Bidvest Wits coach to guide Kaizer Chiefs to the league title following last season's final day heartbreak but six months in and the Amakhosi have regressed in shocking fashion.
Gavin Hunt's side have earned just six league wins in 26 matches meaning they've dropped points on 20 occasions since the beginning of the season.
While it must be mentioned that Kaizer Chiefs made history by first qualifying for the CAF Champions League group stages and then following it up with a string of incredible performances that saw them qualify for the knockout stages as well.
Their domestic form has been a shadow of their continental form and a coaching replacement is on the cards at the end of the season according to South African heavyweight soccer journalist Velile Mnyandu.
"Kaizer Chiefs could be in for their fifth coaching change in the space of just three years, with a return of Stuart Baxter being touted at Naturena." IdiskiTimes reported.
Stuart Baxter is currently unemployed after he was sacked in controversial fashion at Indian club Odisha FC last year. The 67-year-old guiding the Amakhosi to two league titles in three years at the club.
He further went on to lift the Nedbank Cup and MTN8 with Kaizer Chiefs and will undoubtedly be at the top of Kaizer Motaung's shortlist should Gavin Hunt be axed.
Ex-Springboks Coach Rassie Erasmus Responds to Unfair Criticism Online
Former Springboks coach Rassie Erasmus has hit back at claims that the reigning World Cup champions are not worthy. This comes after a statement that was made by an article through Rugby Pass, alleging that the current Springboks side is not the best.
Erasmus wrote on Twitter: "A lion doesn't concern himself with the opinion of a sheep." With the Boks set to return to action since winning the global showpiece in Japan back in 2019, they are will face Georgia in July this year.
Penned by Ben Smith (not the former All Blacks fullback of the same name), Erasmus has also attracted some views based on his tweet.
It is reported that some will believe the veteran manager should have responded to the article directly and not just use a social media application. In November 2018, Erasmus similarly made public his opinion when he felt the Boks had been wronged after they had controversially lost 12-11 to England at Twickenham. Moreover, it is reported that Smith's piece is unfairly critical of the South African national pride.
The writer also suggested that the Boks were less than courageous by not participating in last year's Rugby Championship that was held in a bio bubble in Australia and featured the Wallabies, All Blacks and the Pumas.
News reported that the Rugby World Cup will be taking place in France in 2023, where the Springboks will defend their title as Rugby World Cup champions and try and make history by winning the competition for the fourth time.
The opening match will feature two rugby giants, France and New Zealand in Paris at the Stade de France stadium. The schedule looks good for the Springboks who will be taking on Scotland in their first match. South Africa will play in Pool B along with Ireland, Scotland, Asia/Pacific 1, and Europe 2.
Internationally recognized footballer Eran Zahavi's wife and 4 kids tied up
The wife and four children of Internationally recognized footballer and PSV Eindhoven forward Eran Zahavi were tied up by robbers at their home in Amsterdam while he was on his way to an away game, Dutch police said on Monday.
Two robbers turned up at the house on Sunday under the pretence of delivering a package and threatened his wife, Shay, with a firearm, police said.
No one was injured, but police described the event as being "traumatic" for those involved. The police said they were looking for two suspects aged around 20.
"A very unpleasant event," Israeli international Zahavi wrote on his Instagram account on Monday. "This goes far beyond a normal theft or burglary."
Zahavi missed PSV's game against Willem II Tilburg after his wife called to tell him about the robbery while he was travelling on the team bus.