Bizarre: check Ex-PSL stars who were destroyed by alcohol
Alcohol is one of the beverages that can be very toxic to your health when consumed irresponsibly, and in South Africa, the culture of alcohol abuse is astronomically high with accompanying violence which has caused so many deaths and heartbreak in different households.
For a period of time, South African sportsmen are engrossed in the abuse especially those who have had a tremendous run in their career as a number of stories of former Premier Soccer League (PSL) players whose careers were absolutely destroyed by alcohol abuse.
This has contributed to a great extent the downfall of most of the PSL players has been alcohol, as it has ruined so many promising careers.
In the tweet is,
Junior "Kleinman" Khanye former Kaizer Chiefs wingers./
Thabiso "Skapie" Malatsi, former Mamelodi Sundowns
star Lerato "all you need is love" Chabangu and
Former Orlando Pirates defender Mbulelo "Old John" Mabizela.
The aforementioned players' history with alcohol has been talked about exhaustively.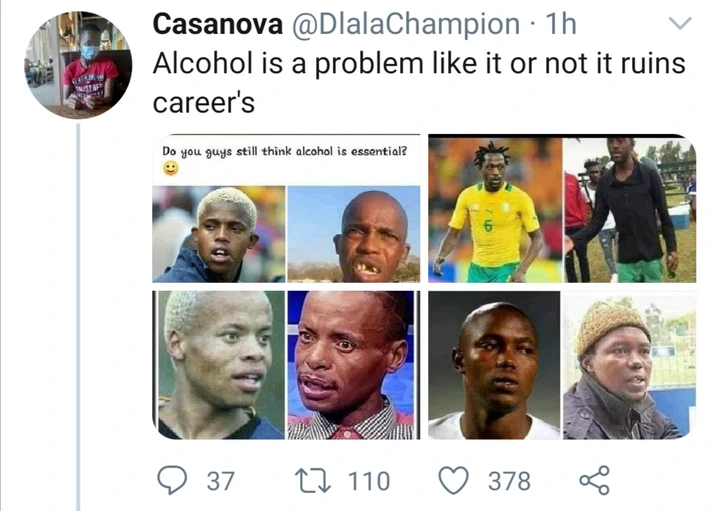 A debate ensued, but people were glaringly divided on the issue, with one section saying Alcohol is not actually a bad thing, these players are just not disciplined enough. Another group argued that all problems footballers face stem from alcohol abuse.
It must be remembered that South Africa is one country with a huge alcohol consumption, perhaps it is a societal problem.