Jacob Zuma's Daughter Drops Bombshell, Exposes Highest Paid Judge On #CR17 Campaign
Dudu Zuma-Sambudla mentioned two things that should be addressed and these include release of CR7 bank statements and investigation of the judiciary.
Jacob Zuma's daughter attached a document with some names of judges allegedly paid by CR17 campaign.
The document pointed out that Sullet Potterile received 70 000 on 17 September 2018 and 200 000 on 22 June 2019.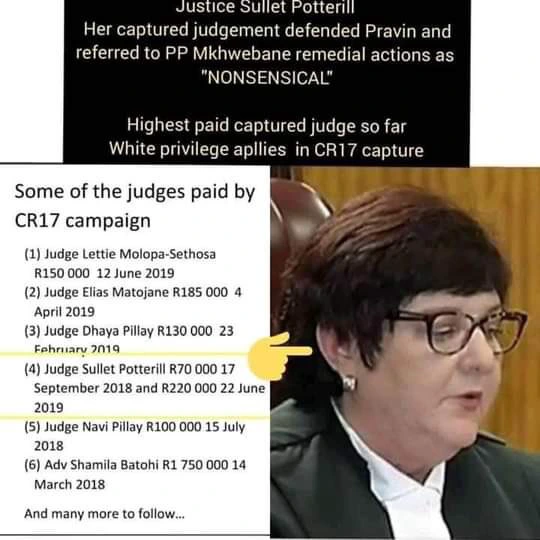 Judge Sullet according to the document posted by Zuma's daughter, is the highest paid judge and it's alleged that one of her captured judgment was when she defended Gordhan Pravin and reffered to the Public Protector Busisiwe Mkhwebane's remedial actions as "nonsensical."
Dudu Zuma-Sambudla called for the investigation of judges.
"Investigate our judiciary and release #CR17BankStatements lets see what Jacob Zuma was talking about," she said.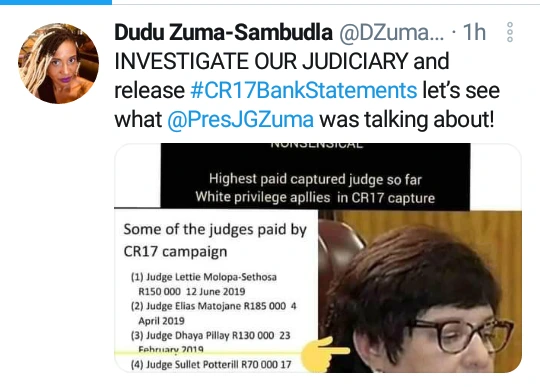 Dudu Zuma-Sambudla also reffered to utterances made by Chief Justice Mogoeng Mogoeng that a certain institution approached him and offered him R600 million as bribe and he rejected it and said it's high time the judiciary should be investigated.
"If a whole CJ can be approached with money, imagine our judges. These claims are very serious and ones Jacob Zuma has made. It's high time the judiciary is investigated and #CR17BankStatements made public, then we can talk about the real state capture," she said.