DJ Speedsta accuses Nasty C of Stealing his song.
It all started when Nasty C, The Zulu man with some Power tweeted where the DJ Speedsta was saying on record that the song Bang Bang belongs to him.
"I don't know if you guys remember the song by Nasty C Bang Bang, that's actually my song.."
Nasty C reacted with the tweet below,
"LMAO why you just lie like that"
Speedsta, I thought you were cool smh.
Ses'thathana kancane ngo-line wakho ke mata
The DJ responded, swiftly
"I'm not gonna do this with you."
Read your last tweet, he added.
"If only I had my old Twitter cuz that's where you & I did most of communication via DM"
"Fact of the matter, you gave me the song & asked for it back months later"
" Why would you ask for it back if you didn't give it to me?"
Nasty C replied;
"That's not the point, point is you acting like you gracefully gave me the song 'coz I needed it', when it wasn't yours to begin with"
Dj Speedsta replied;
"Nah you chose to take it that way.
You also decided to tweet it without context.
We made "Side Chick" which I didn't release, we then worked on "I Want it All" which u didn't wanna shoot for because you weren't comfortable with how it came out & in tern you passed me "Bam Bam"
The fans are taking it upon themselves to react on both side, meanwhile, Nasty C is still busy promoting his Nasty C live Performance in 2019.
WATCH: Hawaii police release graphic footage of rugby player Lindani Myeni's shooting
Graphic footage has emerged of KwaZulu-Natal rugby player Lindani Myeni's death at the hands of Hawaii police.
The bodycam footage, released by Honolulu police, is from two of the three officers who responded to a "burglary in progress" at a home in Nuuanu on Wednesday night.
The first officer who responded had his body camera switched off and police say it was activated only after the incident.
The first footage released lasts 55 seconds and comes from the bodycam of the second officer to arrive on the scene.
He walks onto the premises in the dark and repeats "where you at, where you at?" as a female homeowner stands at the door and cries out "that's him, that's him".
She points and says "that's him, he's still in the car". The officer, using a torch, proceeds towards where the woman is pointing and produces his firearm.
As he comes around a corner Myeni can be seen standing next to the first officer and presumably talking to him, given their close proximity.
The footage contains graphic details. Viewers' discretion is advised.
The officer does not identify himself but shouts for Myeni to "get on the ground".
Myeni is seen approaching the officer with both of his fists clenched. He punches the second officer and questions "why?" He repeats this question as a flurry of punches can be heard.
The officer falls to the ground as he deploys his Taser, which misses Myeni. Myeni is then seen attacking the first officer.
The second officer gets to his feet and Myeni rushes towards him. A shot is fired, but it is unclear whether it hits Myeni.
The second officer falls to the ground as Myeni punches him. Three shots can then be heard being fired and then one of the officers shouts "police".
The second video lasts 31 seconds and comes from the third officer arriving on scene.
The officer gets out of his vehicle and rushes to the scene where Myeni is asking the question "why?" Myeni can be seen throwing a flurry of punches at the first two officers.
The third officer, still rushing towards Myeni, shouts "Taser". He repeats this at least four times before he is close enough to Myeni to deploy his Taser.
The Taser is ineffective and Myeni continues with his onslaught. The third officer can then be heard shouting "police".
Honolulu Police Department chief Susan Ballard initially told local media that police had responded to a "burglary in progress" at a Nuuanu home.
She said Myeni entered and began chatting with the homeowners, who were upset he had come inside. Myeni left shortly afterwards and "sat in his vehicle" before police arrived, she said.
Ballard was unable to answer if Myeni had actually taken anything from the home, which would substantiate the reason for labelling it a burglary.
Lindani Myeni moved to Hawaii just over a year ago with his wife, Lindsay, who is from the island, and their two children.
He played club rugby as a flank for Durban's Jaguars, the Empangeni Rhinos and in eSikhawini — where he had a passion for developing the sport in his hometown.
Myeni is originally from Ubombo in the far-reaching northern parts of KwaZulu-Natal.
Two of his former rugby teammates described Myeni as a well-respected and God-fearing man who never showed any signs of aggression.
Lindsay took to social media on Friday, saying she had spoken to him at 7.52pm, 18 minutes before the incident. She said he had been on his way home at the time.
It is unclear why Myeni stopped at their neighbours' home, but Lindsay told local media he even took off his shoes at the door, which was a sign of respect.
Mzansi discovered something on the Groom after their wedding pictures was shared
Well there has never been a day when people getting married don't get criticism. There has to be something that the public will notice even if the wedding was all perfect.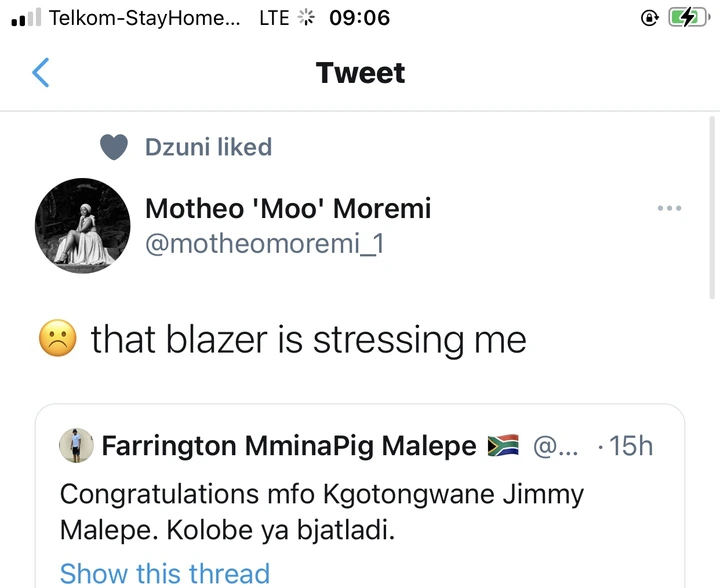 A certain pictures of a newly married couple were shared on Twitter today . A guy who shared the pictures were congratulating the couple on their married . Unfortunately as you know black Twitter , they had to drag the couple through the mud .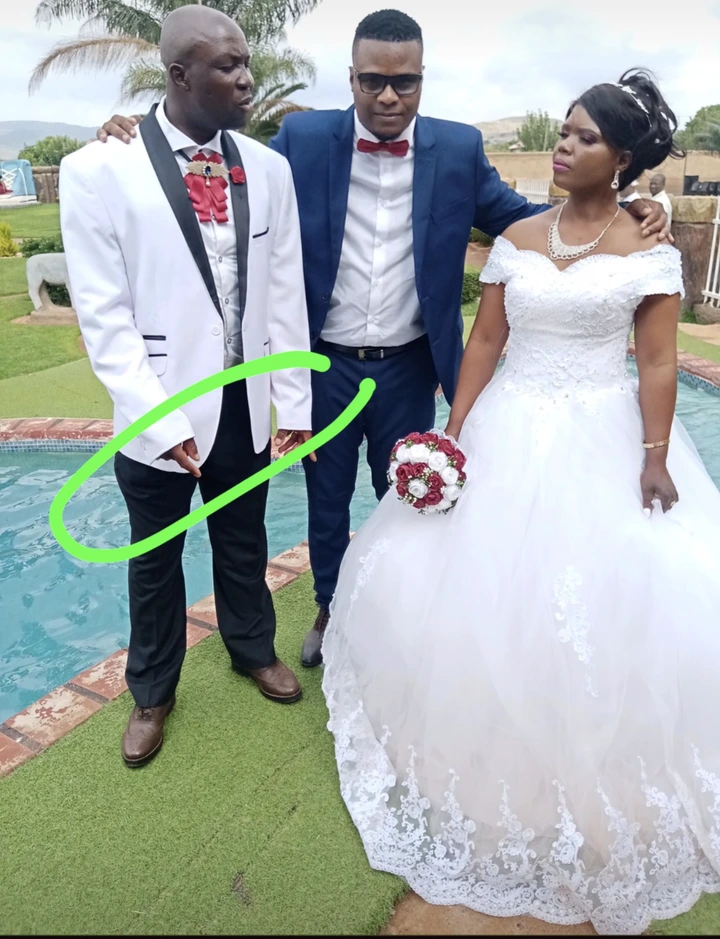 Motheo made a comment to say that the blazer of the groom was stressing her out. They noticed the blazer was too big and it was now making a whole confusing to the dress of the bride . Although they had matched their outfits, it was now looking horrible due to the blazer of the groom.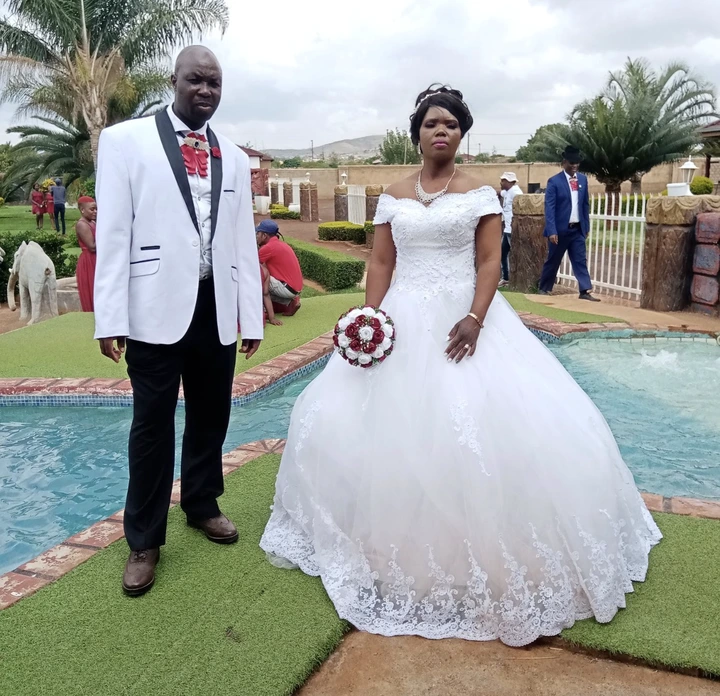 I can say the Bride did not check on the blazer of her husband during fitting, if she had, she oils have noticed what was lacking on that outfit. Or again it could have been that there was not enough time after they had taken it from the tailor but either way it's just too big.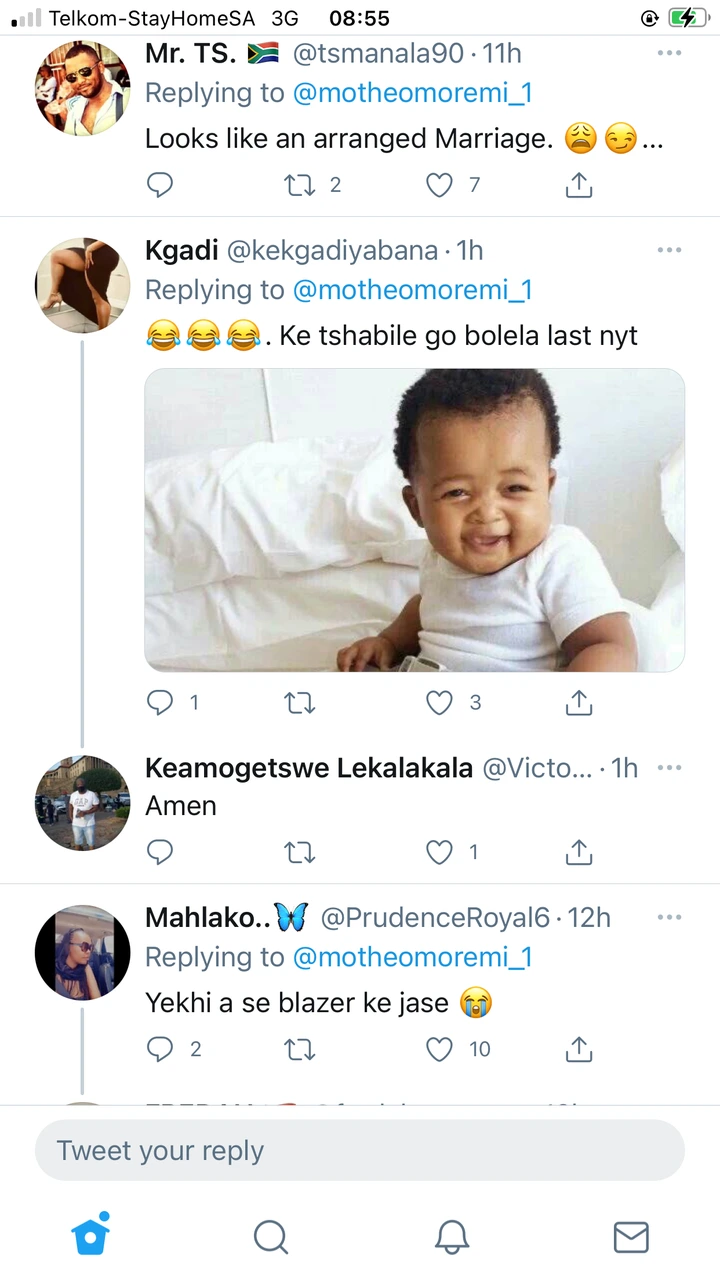 This must be a lesson to all of us, when we do get married let's just check on our partners outfits. This saying whereby they say it's a sim to see a bride in her wedding gown it's all a myth. You need to check her out as well as they can embarrass you on your big day.
What do you think of this blazer , is it ok on your opinion for a wedding ?please let us know by making a comment below .
Zimbabwean journalist insults South Africans, calls them a bunch of idiots
South Africans have been calling for the retrenchment of the journalist, Peter Ndoro because he is a Zimbabwean not cause he came to the country illegally but just because he is a Zimbabwean. However some Zimbabwean journalist have called the South Africans calling for his retrenchment idiots as they have a Chinese in their parliament but are seeing it fit to push out a fellow black man because he is a Zimbabwean. The #RetrenchPeterNdoro hashtag show their foolishness said the Zimbabwean journalist citing that he has all they want a Black African with legal documents kicked out.
It has been something the South Africans have been pushing for for a while all they want is for Zimbabwean journalist Peter Ndoro who works for the South Africa broadcasting cooperation to be retrenched all because of his nationality. He has done nothing wrong, he possesses all the required legal documents but they are calling for his retrenchment. Some have given note to the fact that other South Africans were retrenched while foreigners were spared.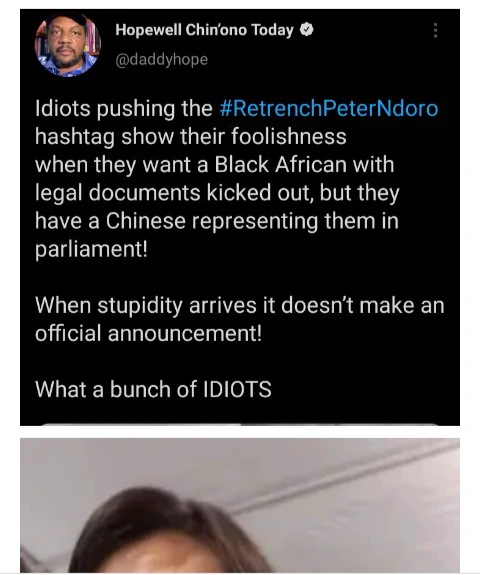 Victoria, the chairperson of South Africans First political party has come out guns blazing also attacking the Zimbabweans saying that why should they weigh in on how South Africans run their country yet they get arrested for yawning in their country. She went on to point out that they drove of the white people then called them back and compensated them and now the are giving the land that they took from the whites to the Chinese who are building a parliament for them.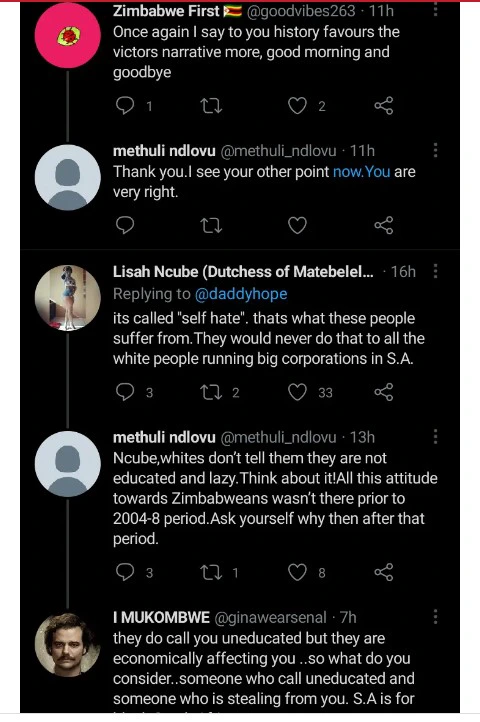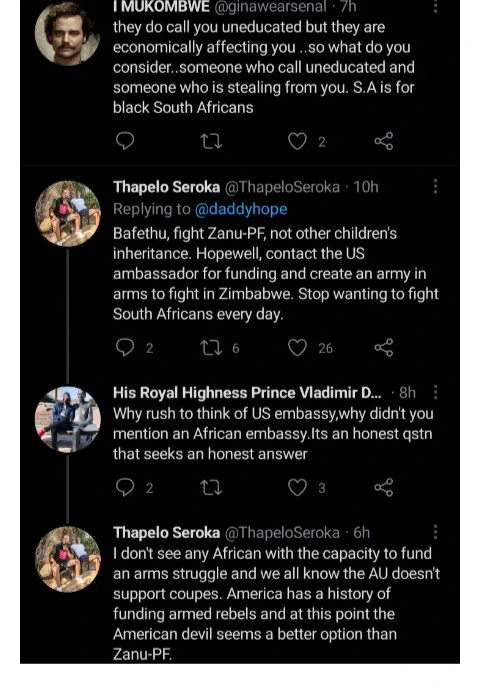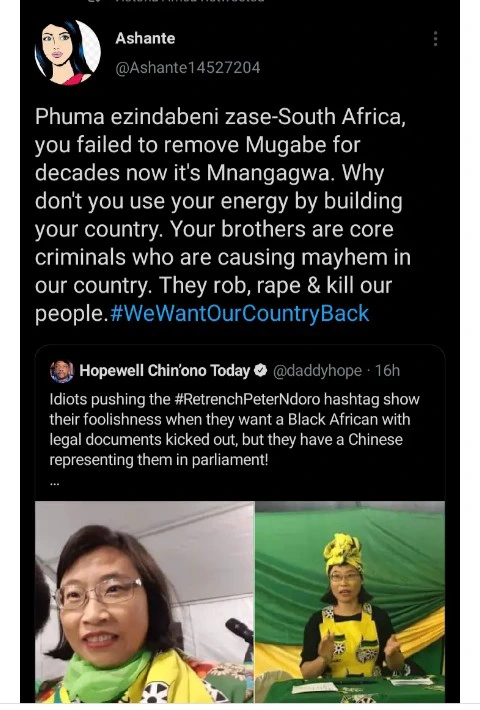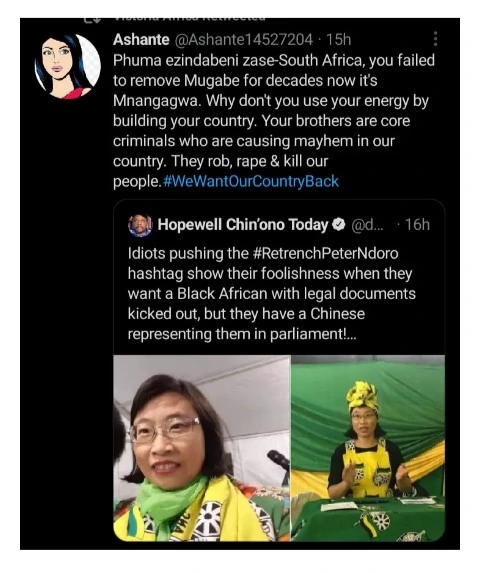 She noted that you have become to many when you compare them to Chinese and you do not add value to the country except for the teachers but most of you fill up the retail sector with no skill that South Africans are not having. Zimbabweans have also noted that all xenophobic South Africans are blacks and have saw it fit to rather work blame all black foreigners for all their problems. They also made emphasise that South Africa could not be what it is today if it was not for Zimbabwe