Letter To Bernie Sanders, By Robert Reich.
Letter to Bernie Sanders
Following the announcement of his exit from the 2020 Presidential race, Bernie Sanders' staunch follower, Robert Reich pens down a heartfelt letter to the Vermont Senator.
Dear Bernie,
I'm sorry you will not be president, but the country is far better off because of your unrelenting courage and commitment to the progressive change we so desperately need in a country riddled with inequality and division.
Four years ago, in the 2016 Democratic primaries, you made it respectable to talk about Medicare for All, tuition-free college and taxing the rich. You alerted America to the vast and growing gap in income, wealth and political power—and its dangers for our economy and democracy.
This time, you've not only made it respectable to talk about these and other urgent issues, such as a Green New Deal, but you've persuaded a majority of Americans that these problems can and must be addressed.
You've given voice to the poor, working class, the undocumented, indigenous people — all those who have been abandoned throughout our history.
You have inspired and galvanized a new generation of young Americans.
You have made it possible for America to live up to its ideals.
Bernie Sanders, your courage and determination have made me and countless others proud.
May your voice, your indignation, and your moral clarity ring out for years to come.
Fondly,
Robert Reich.
Corrupt ANC members won't be protected by party – Cyril Ramaphosa
"State capture took place under our watch as the governing party," ANC President Cyril Ramaphosa told the Zondo Commission today.
This was part of Ramaphosa's opening address at the inquiry where he is expected to be questioned on state capture allegations by the commission.
He is appearing in his capacity as former ANC deputy president and as the current head of the ruling party.
Ramaphosa said state capture took off in the party because of the divisions that have manifested in the ANC since 1994.
He admitted that the ruling party could have done more to prevent corruption which he said has adversely affected the party and the country.
"State capture took place under our watch as the governing party. It involved some members and leaders of our organisation and it found fertile ground in the divisions, weaknesses and tendencies that have developed in our organisation since 1994," Ramaphosa said.
He said: "We all acknowledge that the organisation could and should have done more to prevent the abuse of power and the misappropriation of resources that defined the era of state capture."
He maintained that the party also admits that it made mistakes as it sought to execute the mandate it was given by the voters.
The ANC leader attempted to assure the inquiry that the movement does not support members who commit corruption and they will not be protected by the party.
"Such members must face the full legal consequences of their actions. They cannot rely on the ANC for support or protection, nor may they appeal to the principle of collective responsibility," he said.
According to Ramaphosa, the era of state capture would be "relegated to history".
"We acknowledge to the people of South Africa that we did not always live up to the values and principles that have defined the movement for over more than a century of its existence.
"We are determined and we undertake to work alongside all South Africans to ensure that the era of state capture is relegated to history and that the excesses that took place may never again occur in our country," he said.
The inquiry continues.
Teen charged with drink-driving after family killed in KZN crash
DURBAN – POLICE have arrested a 19-year-old following a horror crash that claimed the lives of four people in Elandslaagte just outside Ladysmith yesterday morning.
KwaZulu-Natal police spokesperson, Captain Nqobile Gwala, said following the crash, police in Elandslaagte opened a case of culpable homicide and drunken driving.
"A 19-year-old driver was placed under arrest for driving under the influence of liquor. He will appear in the Ladysmith Magistrate's Court today," Gwala said.
She said at around 5:30am yesterday morning, a family had been travelling in two separate vehicles on the N11 near Elandslaagte when they were involved in a crash with another vehicle.
"Four family members aged between three and 32 were declared dead at the scene while the other four that were travelling in another vehicle sustained critical injuries and were rushed to hospital for medical attention. The other three occupants in another vehicle sustained minor injuries," she said.
Xenophobia: Some South African warn companies employing foreigners in SA
South Africans threaten to visit all companies hiring foreigners instead of locals. The feud between foreigners and local South Africans continues, and it is like a bubble about to burst.
South Africans on Twitter are suggesting that they should visit every company that is employing foreigners especially undocumented migrants and Undocumented foreigners instead of locals in protest. They mentioned that they should not let this go on, this new idea came when a South African noted on Twitter locals always inquire from Zimbabweans whether there are any jobs available. They noted that Zimbabweans are always the first to know when jobs are available.
It is intensifying as arrangements are being made as some are saying that they should pick a date and visit these companies which are doing a disservice to South Africans. South African suffer as they are unemployed, but you will never come across an unemployed foreigner they are calling it betrayal by both traitor employers and traitor government departments.
They are calling for the setting of dates to fix it saying that it is not proper to have more Zimbabwean foreigners working than South Africans.
They noted that that is against the law but the government is doing nothing about it. It has been suggested in the past by some foreigners that South Africans are just lazy as employment is there. However South Africans have refuted this claiming saying that they are not lazy but will not work for peanuts or be exploited like what foreigners are doing.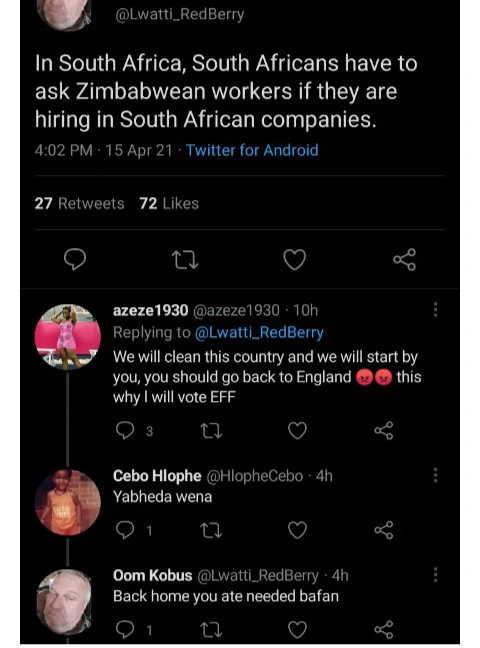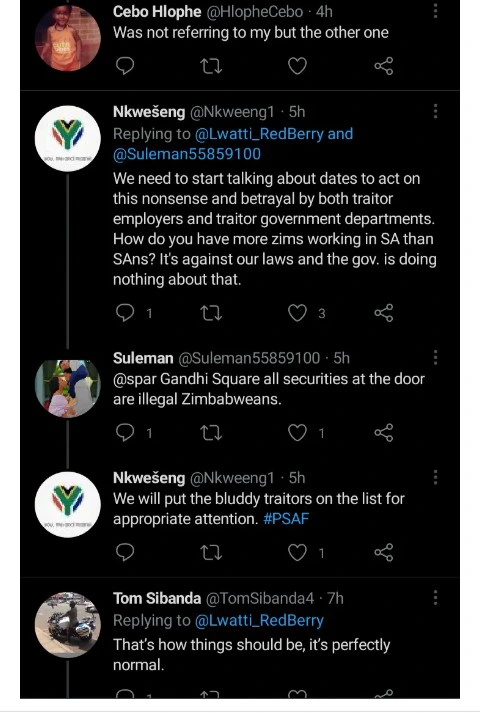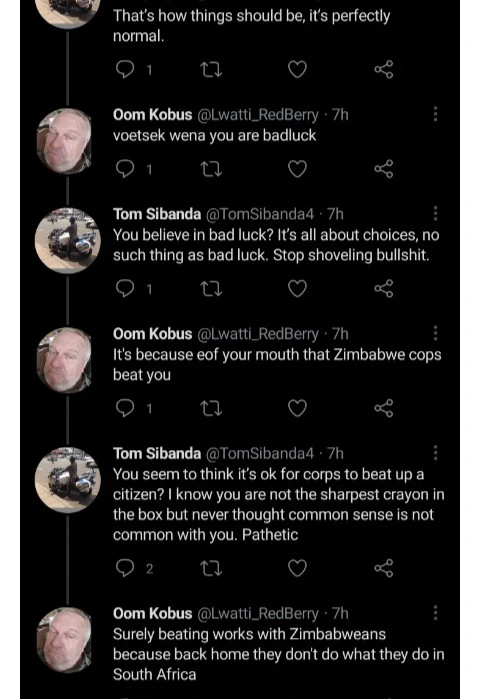 Another South African pointed out that one of the shops hiring foreigners is Spar saying that all the security guards are undocumented migrants from Zimbabwe. Another also lamented over how foreigners have taken over saloons, retails and shops in the CBD from South Africans. Things are set to intensify as tension rises and if this goes into action it might not end well.